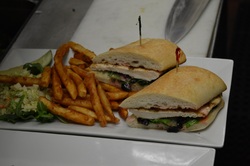 ---
Hours:
Monday - Tuesday 11:30am - 3:00pm
Wednesday - Sunday 11:30am - 8:00pm
Hours will expand as the weather gets warmer!

Phone: 401-683-4400
Email:
Melville@melvillegrille.com
Address: 1 Lagoon Road Portsmouth, RI 02871
We are at the Wintertime Farmers Market in Pawtucket, RI on Saturdays selling hot & cold chowders, and other items
We offer classic American fare with our own unique twist.
We feature a scenic, air conditioned dining room and bar with large bay windows overlooking the marina.
We are just 7 miles from Downtown Newport, enjoy the seaside charm without the crowds!
Our outdoor patio defines the regional "al fresco" lunch or dinner experience.
We offer a semi-private dining area suitable for any function that will accommodate 40 guests.